This was a conversation that a couple of people had on a post from my Facebook page, Thinking of Leaving Teaching:
"One thing I have found is that teachers have many skills to give to non-teaching industries. Things like good communication, ability to organise yourself and others along with report writing and such like are valuable assets. When you are teaching it is difficult to think about what else you could do and if you have the skills. You'll be surprised by the skills you actually have."

"I'm not surprised by the skills I have but I think other jobs don't think my skills are transferable."

"I found this to be true when I was looking for jobs. There is an assumption by non-educators and even teachers themselves that teachers lack conventional professional skills required to succeed outside of the classroom. This is complete and utter BS. Teachers run their own "businesses" in their classrooms every day. Sure, teachers may have to learn some new technology or the catchphrases and workings of another industry, and have to get used to interacting with adults instead of young people, but they're experts at learning and teaching new things. Many job descriptions want a candidate to have had the exact job experience in a position even if a teacher can paint a picture of her transferable skills. Again, that's BS and a lack of imagination and courage on the part of employers. I think part of what's needed is some cultural paradigm shifts around the perception of teachers and the skill and art of teaching."
It is clear that teachers have some very valuable transferable skills and abilities that are applicable in positions and industries outside the setting of the school classroom. These skills and abilities can be found in many job descriptions. A teacher is an instructor, facilitator, lesson planner, adviser, discipline specialist, assessment specialist, caseload manager, counselor, organisational planner, creative director, lawyer, mediator, mentor, manager, secretary, hall monitor, police officer, resource specialist, and leader all rolled into one!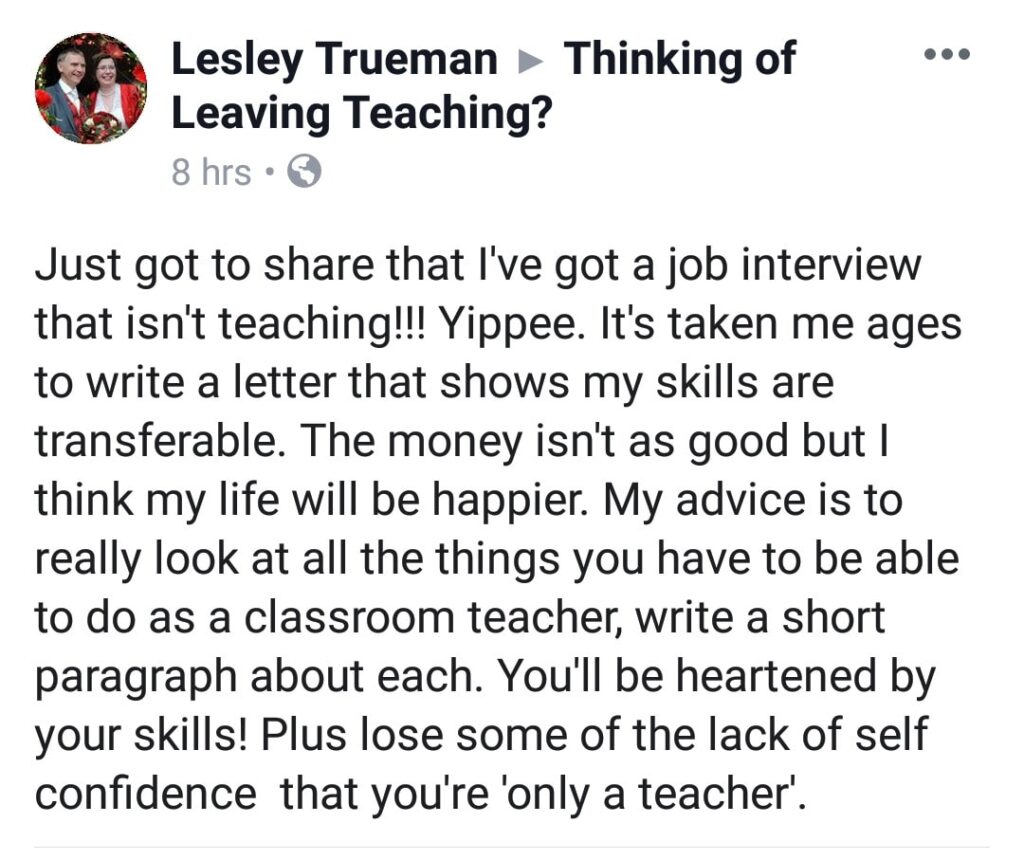 Here is a list of some transferable skills:
Communication – Conveying information effectively through both writing and speaking
Relationship Management -Conflict resolution, motivating, organizing, troubleshooting, establishing rapport
Instructing – Effectively teaching others how to do something with training, coordinating, coaching and facilitating
Monitoring and assessing performance of yourself, other individuals, or organizations to make improvements or take corrective action
Coordinating and guiding others to meet objectives and goals
Multitasking – while remaining composed and meeting deadlines
Lesson planning and curriculum development
Judgment and Decision Making
Active Listening
Time Management
Problem Solving
Coordination
Critical Thinking
Diagnostic Tests
Learning Strategies
Management
Careers After Teaching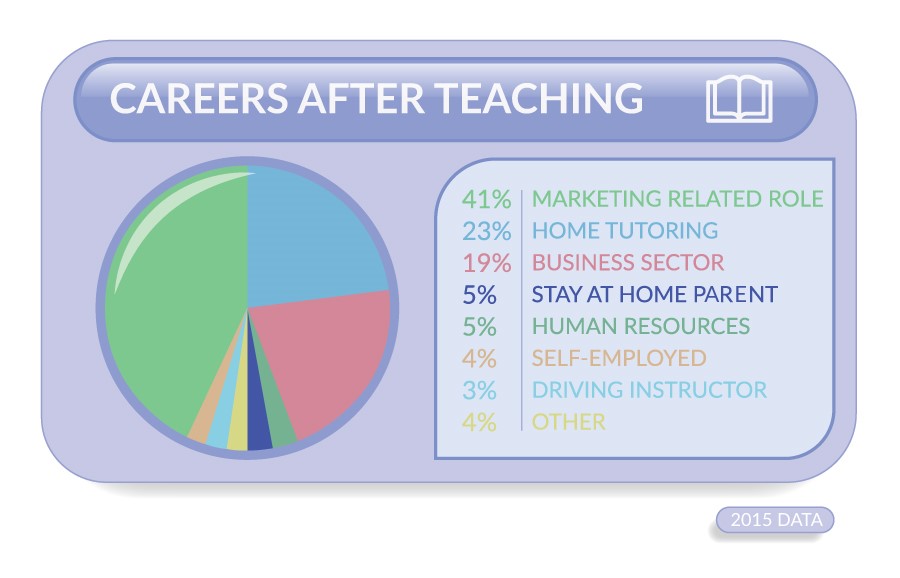 This isn't a recent post (it's from 2015) but I thought it would be useful. Shai Aharony talks about transferable skills in his article which quoted a survey that showed 41% of ex-teachers were now in a marketing role.