Throughout my career as a teacher, I heard many grumbles from other teachers, and these included:
frustration with workload and poor work/life balance
demotivation caused by poor management and bullying in the schools
anger about Government meddling and the direction the education system was going
"All I can do is teach!"
More worryingly was the general despair from some and I spoke to several of these in my last few weeks as a teacher. I will never forget one who congratulated me on my career change and expressed how much she envied me. She proceeded to tell me how much she hated her job. I asked why she couldn't leave and her response was, "I've done this for so long, this is all I can do! I can't do anything else."
It made me realise that not only were there teachers who, like me, wanted to leave teaching but didn't know what they could do instead, but there were also those who were suffering from such low self-confidence that they were unable to imagine themselves doing anything apart from teaching. But why stay in a job that causes you so much unhappiness and grief? None of us know how long we have, so why spend that time suffering so much in a job you hate?
If you are thinking of leaving teaching but don't know where to look first then try my "Thinking of Leaving Teaching" flowchart which may help you decide the next step to take:
Tips if you're thinking of leaving teaching
1) Don't give up on teaching yet!
If it is poor leadership that you are concerned about then there may be another school with a good leadership team that is perfect for you. Looking at the section on moving school. Make use of social media, not just Facebook but LinkedIn too. Keep in contact with ex-colleagues and build up a picture of which schools are the ones to avoid. It's not all about league tables. Schools to avoid are those with high staff turnovers which always indicate problems. If you decide to hand in your notice then here's a Teacher's Resignation Letter Template.
2) Go Part-Time
I didn't consider teaching part-time as an option when I was thinking of leaving teaching, but I know some teachers who work part-time 2, 3 or 4 days a week and it seems to work for them. However, I am also aware of those who work Monday to Thursday and have Friday off… to catch up with marking! Read more about this from Anne, who posted about teaching part-time to the Thinking of Leaving Teaching Facebook page.
3) Supply Teaching
If you have had enough of full-time teaching, try supply teaching. I have experienced supply work in both primary schools and secondary schools for a couple of days per week. Some have been good and some have been bad. But I was in control… if I didn't want to go back, I didn't have to. Supply teaching gives you the opportunity to see a lot of different schools. Many people find that their enthusiasm for teaching is reignited once they discover other schools with good leadership teams. A friend, who left to become a supply teacher, told me, "I handed my notice in on the first day back in September. Haven't looked back since. Not all schools are the same." She has recently found a school she likes and told me, "I'm very happy with my role at the moment and have no plans to move".
Supply teaching also puts you in control by giving you the opportunity to apply for non-teaching jobs without having to give a terms notice, which is often a reason why some teachers stay in a teaching job they hate.
4) Further Education and Apprenticeships
Think about teaching in Further Education and browse FE Jobs for jobs in further education. Look at becoming a trainer or assessor for apprenticeships. In the My Story section on this website, I talk about what I've done in the six years since I left teaching. This has been in Further Education, in particular apprenticeships, and I now have a job in Higher Education. There may be some information there that's useful to some people who are thinking of following those career pathways. You can find out more at the Institute for Apprenticeships website.
5) Research other jobs
After years of stress you may have low self-esteem and be thinking, "What else can I do? All I can do is teach!" Take a look at "101 Alternative Jobs for Teachers" compiled by Trudy Graham. You can download the ebook at https://teachersthriving.com/101-alternative-careers-for-teachers/
6) Read what others have to say about leaving teaching
Check out the TES Community on Facebook and search for tags such as "leaving teaching" or "leave teaching". Look at some of the True Stories from 'Thinking of Leaving Teaching' for inspiration.
Reddit – check Reddit, by searching variations on "Leaving Teaching".
Ex-Teachers of Reddit, what profession did you end up in after leaving teaching? How did you get into your new line of work? Are you happy with your new profession? from r/jobs
7) Look at your Transferable Skills and update your CV
As a teacher, you may not have updated your CV for a while and so this is an area you will need to spend some time on. You will have many transferable skills that are useful in other jobs. As one person who wrote on my Facebook page said:
"When you are teaching it is difficult to think about what else you could do and if you have the skills. You'll be surprised by the skills you actually have."
I have put together a lot of very useful information on this website about improving your CV, including links to CV examples and templates at Job Search – Where Do You Start? (CV).
8) Start your Job Search
I have put together a lot of useful resources on this website at Job Search – Job Hunting. Apart from the job sites that many are familiar with, such as Indeed, I mention other job sites, such as jobs.ac.uk ("Great jobs for bright people") which is a job board for jobs in Universities and FE Colleges. I had several interviews through this site and got my current job through that site.
You may need to plan answers to competency-based questions for application forms and interviews, and I have put together some very useful resources for these areas in Job Search – Completing Application Forms and Job Search – Interview Questions.
9) Training
You may have transferable skills, but you will still probably need to retrain and get a qualification or two for your new career. For example, if you are wanting to do online tutoring then you may need to complete a TEFL course. Invest in continuing professional development (CPD) and expand your skills by taking courses offered by online learning platforms such as FutureLearn, Khan Academy, edX, Udemy and Coursera.
10) Consider receiving coaching
Any one of several reasons may have caused you to wonder how on earth you're going to teach until retirement. You may have experienced bullying in a toxic school. You may have disagreed with damning feedback from observations, but still been managed out through "support plans" from an incompetent leadership team. You may also have become so stressed and/or depressed that your physical and mental health are now suffering.
If you are thinking of leaving teaching because any of those have happened to you then you will undoubtedly be at a low point in life. It will be a difficult time because you will probably be feeling very negative. Your self-esteem may be low, your self-confidence may be low and you will most probably be thinking, "What else can I do? All I can do is teach!" You may also be scared of leaving teaching saying, "I can't afford a pay cut!" These are your biggest barriers to happiness! It may be worth considering getting some coaching from a qualified life coach who will be able to build upon and improve your self-esteem, self-belief and self-confidence.
11) Self-Employment
Maybe consider going self-employed. It is a brave move, but if you're passionate about doing something then why not consider it? When you work for yourself, you have control over your time schedule and workload; you're your own boss! If you choose to go self-employed having found people to pay you to do the stuff you're good at and that you love to do, then that could be your dream job.
12) Work out your expenditure
Many people have direct debits set up but have no idea of the breakdown, in other words the actual amount of money that disappears from their account(s) every month on essentials such as their mortgage/rent, bills and essentials such as food and clothing. Once you know this, then you will know how much money you need to earn every month to pay these bills.
You can work this out in a spreadsheet that I have created in Money Worries – "I can't afford a pay cut!" This also has a link which allows you to look up various gross annual salaries and it will calculate the corresponding net monthly salaries. Knowing both the net monthly salary of a potential job and your expenditure will tell you whether or not you can afford a pay cut.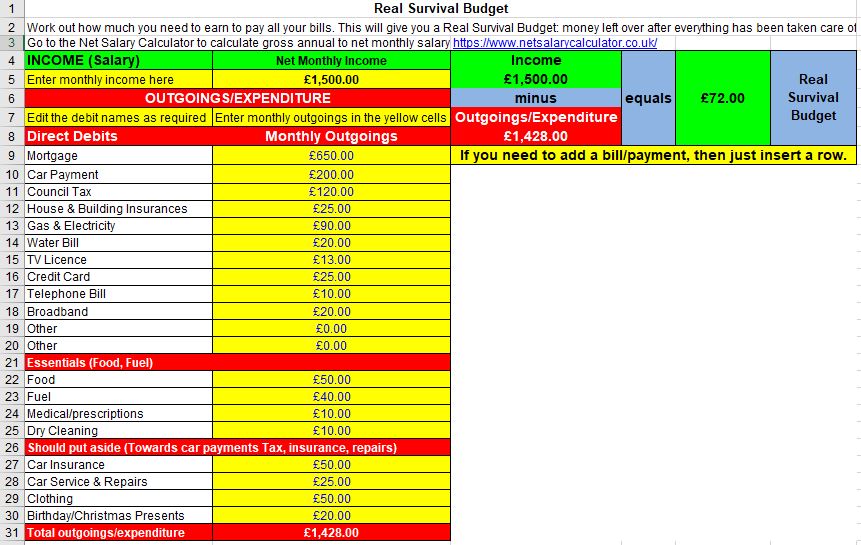 13) Start saving up!
If you really are thinking of leaving teaching for good then start saving up first. By saving up, this money can help to pay for any training that you might need to do for a new job, and help you through any lean periods.