Content on this page
Myth – "All I can do is teach"
When I started thinking of leaving teaching, I asked myself, "What can I do instead?" Throughout my career as a teacher, I heard many grumbles from other teachers, and these included:
frustration with workload and poor work/life balance
demotivation caused by poor management and bullying in the schools
anger about Government meddling and the direction the education system was going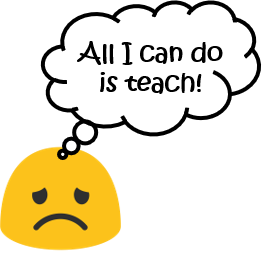 More worryingly was the general despair from some and I spoke to several of these in my last few weeks as a teacher. I will never forget one who congratulated me on my career change and expressed how much she envied me. She proceeded to tell me how much she hated her job. I asked why she couldn't leave and her response was, "I've done this for so long, this is all I can do! I can't do anything else."
It made me realise that not only were there teachers who, like me, were asking, "What can I do instead of teaching?" but there were also those who were suffering from such low self-confidence that they were unable to imagine themselves doing anything apart from teaching. But why stay in a job that causes you so much unhappiness and grief? None of us know how long we have, so why spend that time suffering so much in a job you hate?
Finding your dream job
One thing that helped me was writing down what it was about teaching that I liked and also what I didn't like. In addition, I wrote down other things that I liked doing and finally what I thought were the deal breakers in a job. Here's an example:
Writing a list like this is useful because it will help you focus what it is you're looking for in a new job. For example, you may write down that you like 'helping people'. There are plenty of other jobs where you can get satisfaction from helping people. For me, marking was always the worst thing about teaching. I now have a job that satisfies all the left-hand side, where there is some teaching/training, but it includes none of the things about teaching that I dislike. Of course, the deal breakers could happen in any job, due to change in management. This maybe a useful exercise for you to do.
BACK TO TOP
Your Career & Wellbeing
If you're thinking of leaving teaching, then this will be a very difficult time! Heavy workload and exhaustion may have started you wondering how on earth you're going to teach until retirement.
You may be feeling very negative and uncertain about your future, thinking, "All I can do is teach!" Read more about this in my section on the Change Curve.
It may be useful to talk to someone. You can find some at this link People Who Can Help You – With Your Career & Well-being.
For example, Eileen, of Your Money Sorted, improves teacher wellbeing by empowering female teachers to become happier, healthier and wealthier.
Purposeful Educators talk about the loss of self. When you lose this sense, you lose direction, your sense of worth and connection to what brings you joy. It may be worth considering getting coaching and mentoring from people who will be able to build upon and improve your self-esteem, self-belief and self-confidence.
"Teachers are experiencing a loss of self, causing physical and mental illness, and prompting some to leave the profession."

Jane Berryman, who carried out research into why teachers are leaving the profession
Janet Dowling left teaching after 25 years and retrained as a Solution Focused Clinical Hypnotherapist. She now helps people to reduce their anxiety and improve their sleep. She has kindly offered this relaxation recording for free.
You can learn more about this in the "The Effects of Sleep Deprivation and Stress" section of this website.
BACK TO TOP
"Should I quit teaching?" flowcharts
If you are thinking of leaving teaching then these flowcharts may help you decide the next step to take. The first is a link to a "Should I Quit?" flowchart on the Lifehack website. Basically, if your job is making you unhappy then maybe you need to find a new one.
My "Thinking of Leaving Teaching" flowchart will help get you focussed and decide if you want to move school, go on supply, move to another area in education or leave education completely. Of course, another option is to do nothing and stay where you are!
You can download this flowchart as PDF which, by way of active links, offers an alternative way of navigating my website. Alternatively, you can use the links on the Contents page.
BACK TO TOP
Essentially, there are two main options; stay teaching in primary or secondary schools, or leave teaching for good.
If you still want to teach in schools
1) Move School
If it is poor leadership that you are concerned about then there may be another school with a good leadership team that is perfect for you. Looking at my section on Moving School. Make use of social media, not just Facebook but LinkedIn too. Keep in contact with ex-colleagues and build up a picture of which schools are the ones to avoid. It's not all about league tables. Schools to avoid are those with high staff turnovers which always indicate problems.
On my drive home I was hit by a wave of happiness. I feel content, secure and positive about myself, life and work for the first time in I don't know how long, I can actually say I love my job and my school. If you're considering leaving teaching, PLEASE try a new school first!

— HonestQT🙋🏻‍♀️ (@HonestQT) November 15, 2019
Your resignation letter
If you want to leave then you will need a letter of resignation. My advice is don't burn your bridges, no matter how annoyed you are. Here's mine from a school I worked at for 15 years. When I started. it was a great school. Fifteen years later, it had become a cesspit of narcissism and toxicity:
However, moving school is not an easy option for everyone. When I was looking to move school in my early 40s on UPS3, I had great difficulty finding Head of Department jobs. The jobs I did get interviews for were at schools with more narcissistic "leaders". Eventually, I was so desperate to leave my toxic school that I decided to take a demotion at a new school. That didn't bother me and , not long afterwards, I became Head of Department there.
2) Go Part-Time
I didn't consider teaching part-time as an option when I was thinking of leaving teaching, but I know some teachers who work part-time 2, 3 or 4 days a week and it seems to work for them. However, I am also aware of those who work Monday to Thursday and have Friday off… to catch up with marking! Read more about this from Anne, who posted about teaching part-time.
How does @MrsWhiteWrites make a three-day teaching week work for her? Advance planning, and ensuring sure part-time means part-time… pic.twitter.com/Y1hQbMUQuh

— Tes (@tes) December 18, 2016
3) Supply Teaching
Supply Teaching gives you the opportunity to see a lot of different schools. Many people find that their enthusiasm for teaching is reignited once they discover other schools with good leadership teams. A friend, who left a toxic school to become a supply teacher, told me, "I handed my notice in on the first day back in September. Haven't looked back since. Not all schools are the same." She has recently found a school she likes and told me, "I'm very happy with my role at the moment and have no plans to move".
If you're using the experience to find your perfect school, then treat every day like an interview! Don't return to schools you don't like and make yourself known in those you do. And always have a few suitable standby lessons up your sleeve.

— Lucy A Giles🙋‍♀️ (@lucyagiles) August 1, 2019
Supply teaching also puts you in control by giving you the opportunity to apply for non-teaching jobs without having to give a terms notice, which is often a reason why some teachers stay in a teaching job they hate.
A year after leaving teaching, I did some supply work in both primary schools and secondary schools for a couple of days per week to boost my income. Some schools were good and some were bad. But I was in control… if I didn't want to go back, I didn't have to.
BACK TO TOP
If you just want ideas about what else you can do
1) Read what others have to say about leaving teaching
Look at some of the Success Stories that I have collated from my Thinking of Leaving Teaching Facebook page for inspiration. As of September 2020, there are 43 success stories from ex-teachers, separated into Jobs related to Schools/Education and Jobs outside of Schools/Education. They can be found here on my website at What Ex-Teachers Do Now.
Also, check Reddit, by searching variations on "Leaving Teaching".
Ex-Teachers of Reddit, what profession did you end up in after leaving teaching? How did you get into your new line of work? Are you happy with your new profession? from r/jobs
Check out the TES Community and search for tags such as "leaving teaching" or "leave teaching".
2) Join Facebook Groups
I have set up the private Facebook Thinking of Leaving Teaching? Group as a safe place for people to ask for help and advice, discuss topics and share opinions. The advantage of a private group is that comments stay in the group. The idea is that shared experiences of other ex-teachers will help others who are thinking of leaving teaching and help them think about what else they could do.
Facebook groups to do with leaving teaching are where you will find useful information, such as questions asking what careers people do now, comments about transferable skills and recruitment agencies, teaching in universities, online teaching of English and other subjects, and much more.
3) Look out for Events and Webinars
There are several organisations who help other teachers, for example The Teacher Empowerment Project and Purposeful Educators.
You might be interested in The Teacher Empowerment Events if you are looking for:
ways to diversify your income and reduce your hours
some life changing CPD
a new role
a promotion
a role in a new sector of education
a role out of mainstream education altogether
You can follow The Teacher Empowerment Project @TeacherEmpower and Purposeful Educators @Purposeful_Ed on Twitter
Recommended – I attended the Teacher Empowerment Project event in Manchester, October 2019 where I met both them and Purposeful Educators.
Unfortunately, because of Covid-19, their London event in May 2020 could not go ahead.
4) Look at the Business Opportunities section of this website
Take a look at the People Who Can Help You With Business Opportunities section. This has links to various businesses, many set up by ex-teachers, such as MagiKats, diddi dance, The Reading Doctor, and Home Childcare Childminding. These are businesses who value the transferable skills that teachers have.
BACK TO TOP
What to do if you definitely want to leave teaching
1) Look at your Transferable Skills and update your CV
After years of stress you may have low self-esteem and be thinking, "What else can I do? All I can do is teach!" That's simply not true! Start by looking at your transferable skills at Job Search – Transferable Skills. This useful because I have analysed person specifications for many jobs I have looked at over the last six years and identified the most desired skills. I have then made this relevant to teachers by looking at these skills in your role as a teacher.
"When you are teaching it is difficult to think about what else you could do and if you have the skills. You'll be surprised by the skills you actually have."

A comment from my Thinking of Leaving Teaching Facebook page
As a teacher, you may not have updated your CV for a while and so this is an area you will need to spend some time on. You will have many transferable skills that are useful in other jobs.
I have put together a lot of very useful information on this website about improving your CV, including both links to my own anonymised CV and links to other CV examples and templates, at Job Search – Writing Your CV.
2) Consider Home Tutoring/Online Tutoring
One of the benefits of home tutoring is the one-to-one learning. Many home tutors have adapted to the COVID-19 pandemic by switching to online tutoring. Take a look at What Else Can You Do? – Online Tutoring and also read about Deborah Salsbury, who created a highly effective tuition/school intervention called The Reading Doctor which Ofsted have endorsed in 2 recent reports. She recently franchised the business so it's an opportunity for qualified teachers to set up their own business without the pressure of thinking up systems and resources.
3) Further Education and Apprenticeships
Think about teaching in Further Education and browse FE Jobs for jobs in further education. Look at becoming a trainer or assessor for apprenticeships. In the My Story section on this website, I talk about what I've done in the six years since I left teaching. This has been in Further Education, in particular apprenticeships, and I now have a job in Higher Education. There may be some information there that's useful to some people who are thinking of following those career pathways. You can find out more at the Institute for Apprenticeships website.
4) Research other jobs
Take a look at my Other Jobs You Can Do section of this website. Also, look at some of the True Stories that I have collated from 'Thinking of Leaving Teaching' for inspiration. These can be found here on my website at What Ex-Teachers Do Now.
The hardest part of leaving teaching is trying to find out what else you can do. My initial search for jobs outside of teaching was frustrating as I had no idea what job titles to search for when I was job hunting. You can't search for a job if you don't know what you're searching for!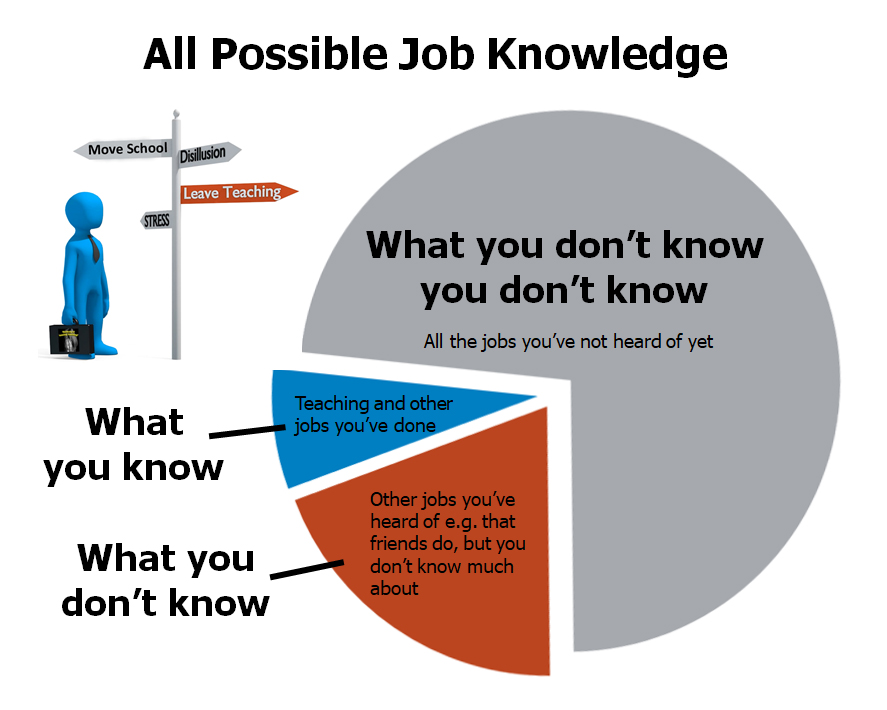 I couldn't search for jobs as an "Instructional Designer" or "Learning Technologist" back in 2013 because I'd never heard of them. It was only through a lot of research that I discovered those job titles. In August 2019, at the ripe old age of 52, I landed a job as an "Learning Technologist". It's the best job I've ever had and totally suits my personality and skill set. Joining Facebook groups, such as the Thinking of Leaving Teaching? Group, is one way to find out about other jobs from other teachers and ex-teachers.
5) Think about what you're passionate about
Think about what you're passionate about. What other hobbies and interests do you have? Cath commented on my Thinking of Leaving Teaching Facebook page:
"My turning point was looking at my passions and hobbies outside of teaching. This not only led to new job ideas but also helped my self worth."
6) Start your Job Search
I have put together a lot of useful resources on this website at Job Search – Job Hunting. Apart from the job sites that many are familiar with, such as Indeed, I mention other job sites, such as jobs.ac.uk ("Great jobs for bright people") which is a job board for jobs in Universities and FE Colleges. I had several interviews through this site and got my current job through that site.
One thing that people complain about when job searching is that the job titles often don't mean much. Each organisation has a different job title for similar roles. For example, my job title "Learning Technologist" is also called eLearning Technologist, eLearning Specialist, TEL Developer (TEL stands for Technology Enhanced Learning), Learning and Technology Officer and even Digital and Online Learning Advisor in other universities. This is why it is important to look at the person specification in job adverts.
LinkedIn allows you to search for jobs so if you're not on there and you're thinking of leaving teaching then it may be worth joining and making connections. I know some self-employed people who swear by it. Changing jobs or careers can depend on your network so it makes sense to harness the power of LinkedIn for this reason alone, never mind its job search capabilities. Read Nicola Porter's article on "How and why to get started with LinkedIn if you're thinking of leaving teaching".
You may need to plan answers to competency-based questions for application forms and interviews, and I have put together some very useful resources for these areas in Job Search – Completing Application Forms and Job Search – Interview Questions.
7) Training and upskilling
You may have transferable skills, but you will still probably need to retrain and get a qualification or two for your new career. For example, if you are wanting to do online tutoring then you may need to complete a TEFL course.
A Microsoft qualification would be useful, especially as recruitment agencies often ask for experience of Word, Excel and PowerPoint in "admin skills". In less than 12 hours of learning, you could gain the Office 365 Teacher Academy badge which would show evidence of your knowledge of Office 365. In this course, you learn how to use basic features of Office 365 including Microsoft Teams, OneNote, Sway, Microsoft Forms, Office Online and OneDrive.
You could invest in continuing professional development (CPD) and expand your skills by taking courses offered by online learning platforms I have experience of, such as:
Other online learning platforms include Udemy. Khan Academy, Coursera and edX.
In April 2020, the Department for Education launched the online platform "The Skills Toolkit", offering people access to free, high-quality digital and numeracy courses to help build up their skills, progress in work and boost their job prospects. Some of these are from organisations named above, such as OpenLearn and FutureLearn.
8) Self-Employment
Maybe consider going self-employed. It is a brave move, but if you're passionate about doing something then why not consider it? When you work for yourself, you have control over your time schedule and workload; you're your own boss! If you choose to go self-employed having found people to pay you to do the stuff you're good at and that you love to do, then that could be your dream job.
Some ex-teachers have started their own businesses. You can read about some who have started their own businesses, such as didi dance, The Reading Doctor, @Home Childcare, and Little Music Stars, and have have franchise opportunities at People Who Can Help You – With Business Opportunities.
9) Work out your expenditure
Many people have direct debits set up but have no idea of the breakdown, in other words the actual amount of money that disappears from their account(s) every month on essentials such as their mortgage/rent, bills and essentials such as food and clothing. Once you know this, then you will know how much money you need to earn every month to pay these bills.
You can work this out in a spreadsheet that I have created in Money Worries – "I can't afford a pay cut!" This also has a link which allows you to look up various gross annual salaries and it will calculate the corresponding net monthly salaries. Knowing both the net monthly salary of a potential job and your expenditure will tell you whether or not you can afford a pay cut.
10) Start saving up!
If you really are thinking of leaving teaching for good then start saving up first. The rule of thumb is to always have enough money to cover three months' worth of outgoings. If your monthly outgoings (mortgage/rent, food, bills, etc.) come to £1200 then you should aim for £3,600 of emergency savings. If you were to lose your job (or resign because things were just so bad!) then that would help buy you three months to find a new one. As well as helping you through any lean periods, this money can also help to pay for any training that you might need to do for a new job.
BACK TO TOP