Number 1 of my "Tips if you're thinking of leaving teaching is Don't give up on teaching yet! If it is poor leadership that you are concerned about then moving school to one with a good leadership team that is perfect for you may be the way forward. Some ex-colleagues of mine who have suffered under poor leadership have moved school or have found their perfect school through supply teaching and are now much happier. There are some good leadership teams around, you just need to find them.
On my drive home I was hit by a wave of happiness. I feel content, secure and positive about myself, life and work for the first time in I don't know how long, I can actually say I love my job and my school. If you're considering leaving teaching, PLEASE try a new school first!

— HonestQT🙋🏻‍♀️ (@HonestQT) November 15, 2019
How Do You Find Good Schools?
Apart from finding these schools through supply teaching, one way of finding schools with good leadership teams is to make use of social media. Use Facebook and LinkedIn to keep in contact with ex-colleagues and build up a picture of which schools are the ones to avoid. Schools to avoid are those with high staff turnovers which usually indicate problems. It's not all about league tables.

Twitter can be useful too. One Headteacher I'm impressed with at the moment is Jeremy Hannay:
No formal obs or scrutiny. No learning walks, traditional monitoring or marking. No planning proformas. No data targets. No boosters.

No bullshit.

Did away with the Ofsted-style management

What did they think when they visited last week. #ThereIsAnotherWay #IncredibleSchools pic.twitter.com/FDslNeYHIC

— Jeremy Hannay (@HannayJeremy) July 19, 2019
Moving school? Have You Considered…
Teaching a different subject?
Teaching SEND?
Moving from primary to secondary or from secondary to primary?
Going for promotion?
Teaching abroad?
The (Un)official Teacher's Manual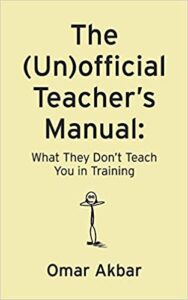 The (Un)official Teacher's Manual, written by my friend and ex-colleague, Omar Akbar, is worth a read. Topics he deals with include maintaining a work-life balance, dealing with workplace bullying, moving school and much more. You can follow Omar at his The Unofficial Teacher's Manual Facebook page and on Twitter at @UnofficialOA where he offers advice to teachers and occasionally posts amusing content such as this:
After probably the most overwhelming week ever, I took it upon myself to cheer me up so I stayed behind after school and learnt 'the shuffle.'

Not gonna lie, this did wonders for my wellbeing. 😁

Happy Friday #edutwitter! pic.twitter.com/VuseuGDMGV

— Teacher's Manual 🙋🏻‍♂️ (@UnofficialOA) September 6, 2019