My top tip if you're thinking of leaving teaching is Don't give up on teaching yet! If it is poor leadership that you are concerned about then moving school to one with a good leadership team that is perfect for you may be the way forward. Some ex-colleagues of mine who have suffered under poor leadership have moved school or have found their perfect school through supply teaching and are now much happier. There are some good leadership teams around, you just need to find them.
Topics:
On my drive home I was hit by a wave of happiness. I feel content, secure and positive about myself, life and work for the first time in I don't know how long, I can actually say I love my job and my school. If you're considering leaving teaching, PLEASE try a new school first!

— HonestQT🙋🏻‍♀️ (@HonestQT) November 15, 2019
How Do You Find Good Schools?
Apart from finding these schools through supply teaching, one way of finding schools with good leadership teams is to make use of social media. Use Facebook and LinkedIn to keep in contact with ex-colleagues and build up a picture of which schools are the ones to avoid. Schools to avoid are those with high staff turnovers which usually indicate problems. It's not all about league tables.

Twitter can be useful too. However, I would advise you not to spend too much time there as, in my opinion, #EduTwitter can get a little toxic.
This really used to be my life – so glad I moved schools. Came very close to giving up teaching altogether. So glad I stuck with it; I absolutely love my job, the school and the people I work with now (adults and children). Anyone who feels this way, I implore you to move school.

— Miss B (@EducateMissB) February 9, 2020
Consider these
Have you also considered these?
Teaching a different subject?
Teaching SEND?
Moving from primary to secondary or from secondary to primary?
Going for promotion?
Teaching abroad?
Leaving a Toxic School
One thing that teachers worry about is moving from a toxic school and the references they'll need to obtain to get a new job. These are some of the messages and comments from my Thinking of Leaving Teaching? Facebook page.
Turning a negative experience into a positive answer
This was a message that I received through my Facebook page, that I asked Dr Emma Kell on Twitter. Basically, "How do you turn a negative experience into a positive answer?" Click on both my tweet and Emma's to see further responses.
Interesting question. I think that stepping back and appreciating some of the skills teaching develops in us is key: prioritising, relationships, dealing with unpredictability, reflection, efficient use of resources and time… teachers are also the most efficient people I've met https://t.co/rcNn8oKhP8

— Dr Emma Kell FCCT (@thosethatcan) November 20, 2019
Also, I'd say honesty – carefully phrased – is also the best policy. The context wasn't right for me, didn't match my values etc. This is what I've gained but I'm now read to embrace a new experience such as… then shift the conversation forward.

— Dr Emma Kell FCCT (@thosethatcan) November 20, 2019
Worried about references?
One person who messaged me was on UPS3 and had to take a settlement agreement out of their current job. They had a support plan with people turning up to observe but rarely giving feedback from observations, and if they asked for anything, it wasn't actioned. They told me,
"I have tried to register with the local supply agency, but they want two references, one from HOD and one from headteacher…. how have other people got around this?"
One response to that was:
"In my opinion/experience, sadly the 'support plan' was just the first step of capability proceedings because they wanted to get rid of you perhaps you were too expensive or they had a hidden agenda to promote someone else or there was ageism, hence the lack of feedback. As part of your settlement agreement your union rep should have negotiated a fair reference. The supply agency will want 2 referees from your last 2 employers. They will just be looking for allegations of misconduct as red flags if you haven't got that you will be fine. Look after yourself it is a mentally and emotionally very difficult time and you will feel hurt and grief. Try and look at this time as one of opportunity for possibly a new career or less responsibility. Finally, get your belongings out of that school straight away and be aware that once that settlement agreement is reached you may be expected to leave before the end of term. Just know you will come out the other side and you will survive.Good luck! Xx"
Another response was:
"The supply agency will just want confirmation of employment dates, and basic stuff like that from second reference. When I needed a third referee for tutoring agency I asked the vicar. It shouldn't be a problem."
Sickness and dismissal
Another asked if anyone knew of any support available for teachers experiencing difficulties regarding employment, sickness procedures and dismissal.
"Do your research, explore your contacts, read up on employment law, seek out forums which can help. Check your home insurance to see if you have legal cover – they will usually have a telephone line to help (always get legal cover on your home insurance just in case), use ACAS – they have a helpline too. Don't just rely on Union advice. You may also have access to legal helpline via an Employee Assistance programme. Also TES forums are useful."
The (Un)official Teacher's Manual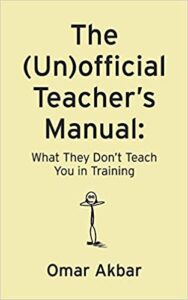 The (Un)official Teacher's Manual, written by my friend and ex-colleague, Omar Akbar, is worth a read. Topics he deals with include maintaining a work-life balance, dealing with workplace bullying, moving school and much more. You can follow Omar at his The Unofficial Teacher's Manual Facebook page and on Twitter at @UnofficialOA where he offers advice to teachers and occasionally posts amusing content such as this:
After probably the most overwhelming week ever, I took it upon myself to cheer me up so I stayed behind after school and learnt 'the shuffle.'

Not gonna lie, this did wonders for my wellbeing. 😁

Happy Friday #edutwitter! pic.twitter.com/VuseuGDMGV

— Teacher's Manual 🙋🏻‍♂️ (@UnofficialOA) September 6, 2019
If you're thinking of leaving teaching then the Thinking of Leaving Teaching Group might be a good place to get some ideas. It is a safe place for people to ask for help and advice, discuss topics and share opinions about jobs you can do if you leave teaching.