I remember when I was younger and didn't know how to spell a word. "Look it up in the dictionary", people would say, and I would proceed to search for words beginning with 'S' to find out how to spell psychiatrist! My initial search for jobs outside of teaching was just as frustrating as I had no idea what job titles to search for when I was job hunting. Many jobs I found didn't specify that a teaching qualification was needed.
It's all very well having a list of transferable skills, but what I found tricky was finding the jobs that would employ me with those skills. I learnt a phrase which perfectly described my situation, "You don't know what you don't know." Also, many of the jobs didn't exist when I first became a teacher. There were no "Instructional Designers" back then, for example.
In August 2019,I landed a job as an "Learning Technologist". I would never have known to search for that job title when I was thinking of leaving teaching back in 2013. A teaching qualification was desirable as two essential criteria for the job were, "Experience of successfully implementing technology solutions for teaching, learning and assessment" and "Experience of delivering staff development or teaching sessions".
Job where a teaching qualification is desirable:
Trainer for Apprenticeships
In May 2017, the UK government changed the way apprenticeship funding worked. The result of this has been that many training providers have been recruiting trainers who are both skilled and experienced staff from industry and who have also gained teaching qualifications. If you are wanting to become a trainer for apprenticeships then you will need to ensure that your own occupational competence and knowledge are up-to-date.
When I left teaching, I trained as an Assessor and gained a Level 3 Certificate in Assessing Vocational Achievement (CAVA). Because of my background, I began assessing for apprenticeships in Creative & Digital Media and, later, in Digital Marketing. Since apprenticeships changed in May 2017, the role of assessor has changed. There is now more emphasis on being able to structure learning and to teach, which is why a teaching qualification is desirable. I talk more about this in My Story.
Online Tutor
Online tuition is a rapidly growing area. Tutors are able to work from home, with no travel time and it allows students to learn when and where they want. Here are some links that may be of use if you want to learn more about this:
This How To Become An Online Tutor link includes a section on "How to Find Online Tutoring Jobs". You will also find jobs for Online Tutors on job sites such as Indeed.
This National Careers Service link gives information about the following:
Entry requirements
Skills required
What you'll do
Salary
Working hours, patterns and environment
Career path and progression
Elaine's experience of Online Tutoring
"I have been asked by this page to explain a little further about my job as an online tutor due to the amount of interest in it. Firstly, please understand this is my own experience, I am not a salesperson and just commented to help someone who was asking for suggestions! After leaving full time teaching in 2013, I chose to be a supply teacher. I did this until early this year. I did mainly emergency cover because I found once I took on longer contracts it was straight back to all the planning/assessing/parent's evenings etc.

"Last year one of my friends asked if I had heard of online English teaching. I hadn't and she sent me the details. I was very interested in what I heard, I completed the TEFL qualification over the summer holidays last year and started tutoring in October 2018. At first I was still doing supply as I gained confidence (mainly with the technology). However, I found I really enjoyed it and took the plunge in February to go self-employed and now work online pretty much full time.

The company I work for is called Itutorgroup. There are many other companies out there that employ online English teachers, but this is the one I work for. Some teachers work for several but I prefer to stick with the one. (I was the same as a supply teacher to be honest). I got the position through a recruiter. The recruiter was Comfort Education As far as I am aware, they still recruit for ITutor. You can also apply direct to ITutorgroup (http://www.itutorgroup.com/).

You will need a Bachelor's Degree and a TEFL qualification. I did not do an expensive qualification, I obtained mine from Oplex Careers. I think I paid about £30 for it. It was an online course, I found it pretty interesting and not at all difficult. The company accepted it without issue. I believe there are other places you can use to gain this qualification as well. I am not going to be commenting further on this. I hope I have covered everything. I am very happy doing this job, I enjoy teaching Asian children, I don't mind the fact there is a time difference (they are 8 or 7 hours ahead depending on our clocks!). The flexibility, the fact there is no commute, and the ability to work 7 days a week, all year round if you should wish to do so (I don't!) makes up for it."

Elaine, who posted on my Thinking of Leaving Teaching Facebook page.
e-Learning Specialist
You may also see this type of job advertised as a Learning Designer, Instructional Designer, Learning Technologist or Academic/Educational Developer. This kind of job requires relevant technical knowledge or experience and so you would need to have experience of using learning resources on Learning Management Systems e.g. Moodle, Canvas, Blackboard, etc. and maybe experience of designing and delivering a range of learning solutions using software such as Articulate Storyline or Adobe Captivate. A teaching qualification is frequently mentioned in person specifications for these roles.
"Consult, advise, design, deliver and evaluate learning and development (L&D) solutions and technology based learning capabilities, in accordance with internal and external standards and regulatory requirements, to enable a culture of self-directed learning and to meet business requirements across the organisation."

A job role purpose I saw advertised for E-Learning Specialist.
In June 2019, I found an advert for a job in this field on jobs.ac.uk. I had been wanting to get into this area for a couple of years, so I applied for the job, completing the application form using the STAR technique that I mention on this website at Job Search – Completing Application Forms. I also included a portfolio of my work as a PDF attachment on the online application form.
I was successful in getting an interview and took a day off to brush up on interview technique, using the links that I have on this website at Job Search – Interview Questions. I am very happy to report that I was offered the job and am now a Learning Technologist at a University in the Midlands.
Check out this thread on Reddit. Several people suggested looking at Instructional Design:
Leaving teaching. Need a new profession from r/Teachers
Educational Sales
There are many businesses who sell to schools and colleges, from books to technical equipment and software. It may be possible to get into a job where you are involved in creating content for textbooks. As a teacher, you will have an advantage when it comes to educational sales because you will know what you are talking about and you will see the advantages of the product and therefore know how best to sell them to schools. You may have to do some retraining, for example in sales techniques or other business-related field, but many of these can be learnt in courses online.
Learning & Development Training Officer
Teachers have a good understanding of how people learn and this can be useful in the corporate environment in assessing training needs for the organisation and creating learning resources. Learning and development in organisations can include everything from:
delivering in-house induction
delivering training courses
creating e-learning resources
coaching and mentoring staff
Curriculum Development Manager
The Curriculum Development Manager is a similar job role to the Learning & Development Training Officer. Job advertisements I have seen for this require experience of designing and developing a curriculum. The teaching and learning experiences are usually coupled with training, so you are also required to have experience of conducting Training Needs Analysis with employers. Have you done this in your school?
Further Information
Teaching and Education – The National Careers Service. This lists 55 jobs in the Teaching and Education category where a teaching qualification would be useful.
373 Alternatives for Teachers Tired of Their Classroom Job by James Anthony. This is a useful article for anyone wanting more job ideas is It's a very good read and also has a free download, "373 Alternative Job Ideas for Teachers".
In addition, James Anthony also has a link to his book "Classroom Escape" as a free download at the bottom of the article. Check out other articles on his website too.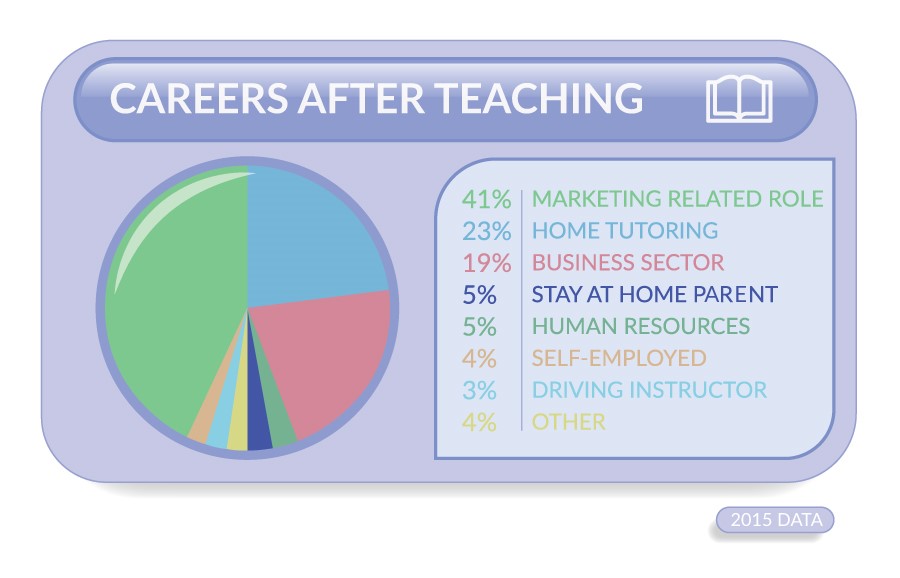 Careers after Teaching by Shai Aharony. This isn't a recent post (it's from 2015) but I thought it would be useful. He talks about transferable skills in his article which quoted a survey that showed 41% of ex-teachers were now in a marketing role.