Because of Statutory Guidance to schools in England and Wales that they should not ask for nor accept CVs from applicants for posts in schools, then you may not have an up-to-date CV. If, like me, the last time you updated your CV before thinking of leaving teaching was in the early 2000s then you may be asking, "Where do you start?" This is an area you will need to spend some time on. One of the areas you will need to focus on is your transferable skills.
"I'm desperate to jump but have so many anxieties about making the leap. The time pressure doesn't help. I know I can't be there in September for my own sanity so searching for jobs and stressing about deadlines for applications. Worrying about making the wrong decision just to get out quick. Loss of pay. All a massive worry. But the long and short of it is, I can't continue."

(From my Facebook page, Thinking of Leaving Teaching.)
Where do you start? – Transferable Skills
This was a conversation that a couple of people had on a post from my Facebook page, Thinking of Leaving Teaching:
"One thing I have found is that teachers have many skills to give to non-teaching industries. Things like good communication, ability to organise yourself and others along with report writing and such like are valuable assets. When you are teaching it is difficult to think about what else you could do and if you have the skills. You'll be surprised by the skills you actually have."

"I'm not surprised by the skills I have but I think other jobs don't think my skills are transferable."

"I found this to be true when I was looking for jobs. There is an assumption by non-educators and even teachers themselves that teachers lack conventional professional skills required to succeed outside of the classroom. This is complete and utter BS. Teachers run their own "businesses" in their classrooms every day. Sure, teachers may have to learn some new technology or the catchphrases and workings of another industry, and have to get used to interacting with adults instead of young people, but they're experts at learning and teaching new things. Many job descriptions want a candidate to have had the exact job experience in a position even if a teacher can paint a picture of her transferable skills. Again, that's BS and a lack of imagination and courage on the part of employers. I think part of what's needed is some cultural paradigm shifts around the perception of teachers and the skill and art of teaching."
It is clear that teachers have some very valuable transferable skills and abilities that are applicable in positions and industries outside the setting of the school classroom. These skills and abilities can be found in many job descriptions. A teacher is an instructor, facilitator, lesson planner, adviser, discipline specialist, assessment specialist, caseload manager, counselor, organisational planner, creative director, lawyer, mediator, mentor, manager, secretary, hall monitor, police officer, resource specialist, and leader all rolled into one!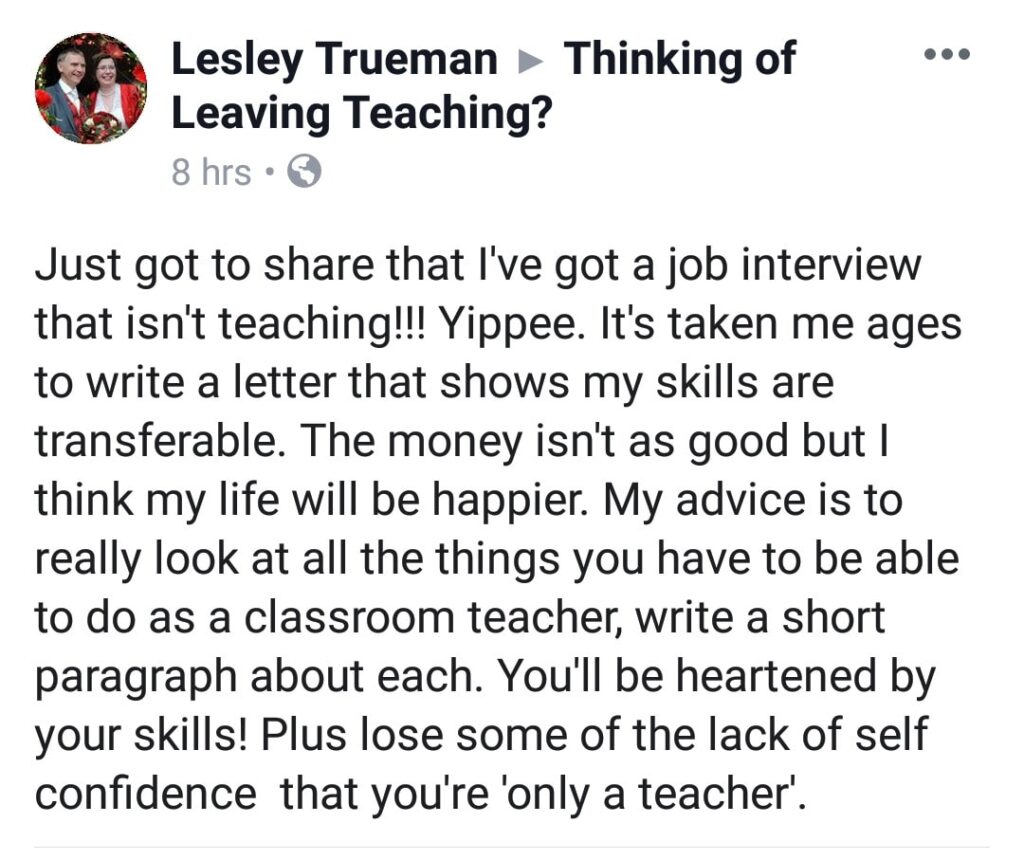 Here is a list of some transferable skills:
Communication – Conveying information effectively through both writing and speaking
Relationship Management -Conflict resolution, motivating, organising, troubleshooting, establishing rapport
Instructing – Effectively teaching others how to do something with training, coordinating, coaching and facilitating
Monitoring and assessing performance of yourself, other individuals, or organisations to make improvements or take corrective action
Coordinating and guiding others to meet objectives and goals
Multitasking – while remaining composed and meeting deadlines
Lesson planning and curriculum development
Judgement and Decision Making
Active Listening
Time Management
Problem Solving
Coordination
Critical Thinking
Diagnostic Tests
Learning Strategies
Management
Where do you start? – Create a CV
Once you find a job that you like the look of, the application process will require you to either send your CV together with a cover letter or complete an application form.
Frequently, recruiters use "Applicant Tracking Systems" (ATS) which use software algorithms to search your CV for keywords to identify candidates with desired skills and qualifications. The ATS looks for these keywords in the candidates' CVs and will filter those CVs which lack any of the keywords. This means that if you send out a generic CV then a recruiter may not even get to read it.
You won't know what these keywords are. However, you can get a good idea by checking the job description, job overview and person specifications on the employer's websites. Because of this, your CV will need to be specific to the job you're applying for.
Some employers will look for you on LinkedIn so it's important that any information you have on LinkedIn is consistent with what you have on your CV. I made a mistake a few years ago of not updating some information on LinkedIn and I was interrogated about why details on LinkedIn were different to those on my CV in interview!
CV Templates
You can download a template from many job search websites and these will give you some ideas about the format and how to structure your CV. See Further Information at the bottom of the page for links to CV templates from Working Options in Education, Indeed, Reed, The Guardian Careers and Monster. The StandOut CV link includes some useful CV examples.
Improving your CV
A typical CV includes the following sections:
Contact Details
Personal Statement
Employment History
Education
Achievements
Interests
References
Contact Details
You should include your name, address, phone number and email address. Try to use a professional sounding email address, which should ideally include your name. A study by CareerBuilder found that 35 percent of employers rejected CVs which included an inappropriate email address.
Personal Statement
You don't have to have a personal statement, but I would advise putting time into creating one. A study by UK's youth programme, National Citizen Service, revealed that recruiters spent an average of 8.8 seconds looking at a CV and so a well-written personal statement could give them a reason to read on.
This short paragraph should summarise who you are, what valuable skills and experience you have that are relevant to the job role, and what you can offer the company. You do not need the title "Personal Statement". There are no definitive rules about whether the personal statement should be written in the first or third person. After doing some research on this, I felt that the majority opinion was that you should use the first person. After all the CV is all about you and selling yourself. Also, the third person can sound incredibly pretentious, as the following example illustrates:
"Influential and creative Manager with a sustained record of success in the public sector marketplace. Has substantial background in service organisations whilst at the same time managing cultural change across these concerns. An inspirational leader and outstanding team member, who through a participative approach will create robust strategies to translate vision into achievement. Strong analytical, problem-solving and decision-making skills have been demonstrated across many areas. Excellent communication and networking abilities have been used extensively to benefit his organisation and industry. Now seeking a creative role within a progressive organisation."
I made the huge mistake of paying for a coaching programme for people wanting to change careers. That personal statement is what the coach wrote for me; I honestly didn't recognise the person being described! I was told that, over the sessions, I would learn the secret to being successful in searching for the perfect job and changing my life. Half of the first session was taken up by the coach telling me about their career and how they had now found the perfect job! They didn't give me the completed folder of resources at the start; I was given a section during each session which we worked through with a clue as to what this "magic formula" was. To cut a long story short, the answer was Networking. The more I networked, the more I would find the relevant contacts in other jobs which would increase my chances of finding another job. What a complete waste of money that was!
My current personal statement, which has been successful in getting me interviews as a Tutor/Assessor for apprenticeships and, more recently, landing me a job as a Learning Technologist is this one:
I tweaked my personal statement depending on the specific job/sector I was applying for. The other sectors I was looking at were "IT Trainer/IT Skills Coach" and "Instructional Designer/eLearning Designer/Digital Learning Designer/Learning Technologist". For example, if a job specified "management experience" in the criteria, then I would edit "middle leadership roles" into "management roles".
Core Skills Section
Although I didn't include this in the "typical CV sections" list at the top, a core skills section as bullet points is useful because it allows recruiters to see your skills at a glance, and is a useful area to put keywords. I included a core skills section in my CV, after the personal statement.

Employment, Education and Achievements
Be careful about using too much formatting as this can make the ATS reject your CV. Avoid putting Employment and Education in tables as these can make it difficult for the ATS algorithms to read. If they can't read your CV then they will reject it.
When listing your qualifications, include both the acronym and the keyword or phrase. So, for example, write "Post Graduate Certificate in Education (PGCE)".
Avoid clichés if you are listing your achievements. Infamous phrases that have been overused are "results-focussed" and "results-oriented". If you have played a part in improving results then simply state the measurable improvement that resulted from your efforts.
Interests section
An Interests section can give an employer/recruiter more insight into your personality. However, generic interests will turn recruiters off. They will only be interested if the interests are relevant to the role applied for. Leave the Interests section out if you need to cut down your CV to fit to two sides of A4, or if they don't add to the job you're applying for.
References
Many employers/recruiters won't check references at the application stage, so it is okay to put "References available on request."
When you're happy with your CV then you can start job hunting.
Further information:
I need a job: where do I start? – Reed. This may be a good place to start, with some useful questions to ask yourself.
Working Options in Education – How to write a CV that stands out from the crowd. Useful information, succinct and to the point, which includes a download to their CV template.
Indeed – Resume (CV) Samples and Templates. CV examples for a variety of industries and job titles with recommended skills and common certifications. Each sample CV is based on the most contacted Indeed CVs for that specific job title. Indeed have also gathered the skills and certifications for each job title that appeared most often on CVs uploaded to Indeed.
Reed – CV Templates. Free CV templates and CV examples and samples to help you create a professional CV fast.
The Guardian Careers – Guardian Jobs CV template. This also includes a link to Guardian Jobs advice on how to write a CV.
Monster – CV Template. A CV template and tips for using it.
StandOut CV – Example of a good CV. This link includes some useful CV examples.