1) Using AI to optimise your CV (resume)
You can use AI to help you with your job search. As mentioned in Job Search – Your CV & Cover Letter, many recruiters use "Applicant Tracking Systems" (ATS) which use algorithms to search your CV/resume for keywords to identify candidates with desired skills and qualifications. The ATS look for these keywords in CVs and filter out those which lack any of the keywords.
It is for that reason that your CV needs to be specific to the job you're applying for because if you send out a generic CV then it may not even get read by a recruiter. You can get a good idea of what those keywords are by checking the job description, job overview and person specifications on the employer's websites. However, AI can also help you.
Jobscan uses AI to optimise your CVs/resumes:
1) Upload your CV/resume
2) Paste a job description, or use a sample job description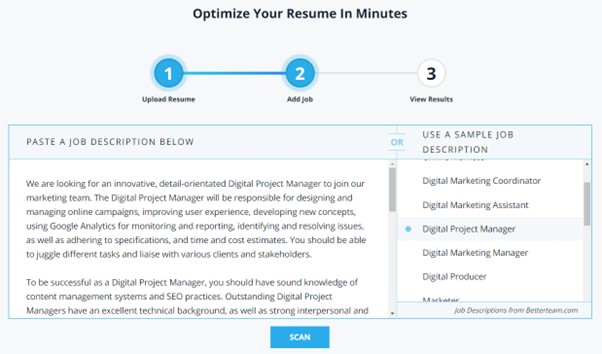 3) Jobscan scores your CV and suggests improvements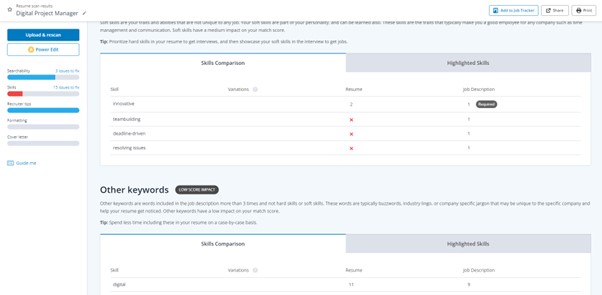 2) Using AI to generate cover letters
In January 2023, I saw a job advertised on Indeed and decided to apply for it. It took me just a few minutes to update my CV, which I uploaded, and then I just needed to write a cover letter. I decided to find out what would happen if I asked ChatGPT, "Write a cover letter for a [name of job role that I applied for] job". I copied it, edited it to make it more relevant to my experience, pasted that cover letter in the relevant section, and then submitted my application. Nearly two weeks later, I received an offer of a job interview 😊
AI can be used to generate personalised cover letters. These letters can be tailored to the specific job opening and the job seeker's skills and experience. Below I have attached an example of a cover letter that ChatGPT generated for a Project Manager job. I asked it to "Write a cover letter for a Project Manager job for someone with little experience" (because most teachers won't have had a previous roles as a 'Project Manager'.
It might be worth having a look at AI such as ChatGPT and Google's Bard to get a template which you can adapt for your own use if you are stuck for ideas. The main advantage was that it was very quick… much quicker than spending hours searching for cover letters.
You can do the same for CV Personal Statements. Here is one I did using Google's Bard:
3) Using AI to prepare for interviews
AI can be used to help job seekers prepare for interviews. One free resource is an AI interview coach 'Prepper' which was launched by Adzuna in June 2023. You simply enter the job title and get interview questions. If you wish, you can add the job description and the name of the company you have applied to.
There are three levels of questions; easy, hard and pirate! I did this for my job title (Learning Technologist) and got the following results:
Easy
Question 1: "Can you explain what a Learning Technologist does?"
Question 2: "What are the key skills and qualifications needed for this role?"
Question 3: "Can you provide an example of how you have used technology to enhance learning?"
Question 4: "How do you stay updated with the latest trends and developments in learning technology?"
Question 5: "Tell us about a time when you had to troubleshoot a technical issue in a learning environment."
Hard
Question 1: "Can you explain the difference between synchronous and asynchronous learning?"
Question 2: "How would you incorporate gamification into an online learning course?"
Question 3: "What strategies would you use to ensure accessibility for all learners in an online learning environment?"
Question 4: "Describe your experience with learning management systems and instructional design software."
Question 5: "Tell me about a time when you had to troubleshoot a technical issue during a live online learning session. How did you handle it?"
Pirate
Question 5: "Shiver me timbers! How do ye keep up with the latest trends and technologies in the field of e-learning?"
I was impressed! I have been asked all those questions in Learning Technologist interviews.
Interview Tasks
As well as being able to use AI to search for interview questions, AI can also be used to find what interview tasks there may be. Someone in the Thinking of Leaving Teaching group asked about in-tray tasks that they were going to have to do in an interview:
Hi all,
I've applied for an Exam Officer role and they have told me that there would be a in-tray task as part of the interview. I did some research online but if I could have examples that would be really helpful. Did any of you move to a similar role? If so could you share your experience? Thanks for your help!
Someone responded with what they found using AI:
In-tray exercises for an exams officer in a UK secondary school might include tasks like:

Sorting and prioritizing exam papers for upcoming tests.

Responding to emails from teachers, students, or parents regarding exam-related inquiries.

Organizing exam schedules and ensuring they don't clash.

Handling requests for special accommodations during exams.

Reviewing and updating exam regulations and policies.

Coordinating exam invigilators' schedules and assignments.

Managing the distribution and collection of exam materials.

Preparing reports on exam results and trends.

Troubleshooting issues that arise during exams, such as technical problems.

Communicating with external exam boards and agencies.
These exercises assess an exams officer's ability to efficiently handle various administrative and logistical responsibilities in a school's examination system.