If you are looking for jobs outside the setting of the school classroom then one area you will need to focus on is your transferable skills. A teacher is an instructor, facilitator, lesson planner, adviser, discipline specialist, assessment specialist, caseload manager, counsellor, organisational planner, creative director, lawyer, mediator, mentor, manager, secretary, hall monitor, police officer, resource specialist, and leader all rolled into one! Because of this, teachers have some very valuable transferable skills and abilities that can be found in all job descriptions.
I have known several teachers who have had low self-confidence and have told me, "All I can do is teach!" Over the last few years, I have received many messages from teachers who ask, "I want to leave teaching. I need another job… where do I start?" The first place to start is looking at your transferable skills. I couldn't say it any better than Lesley here: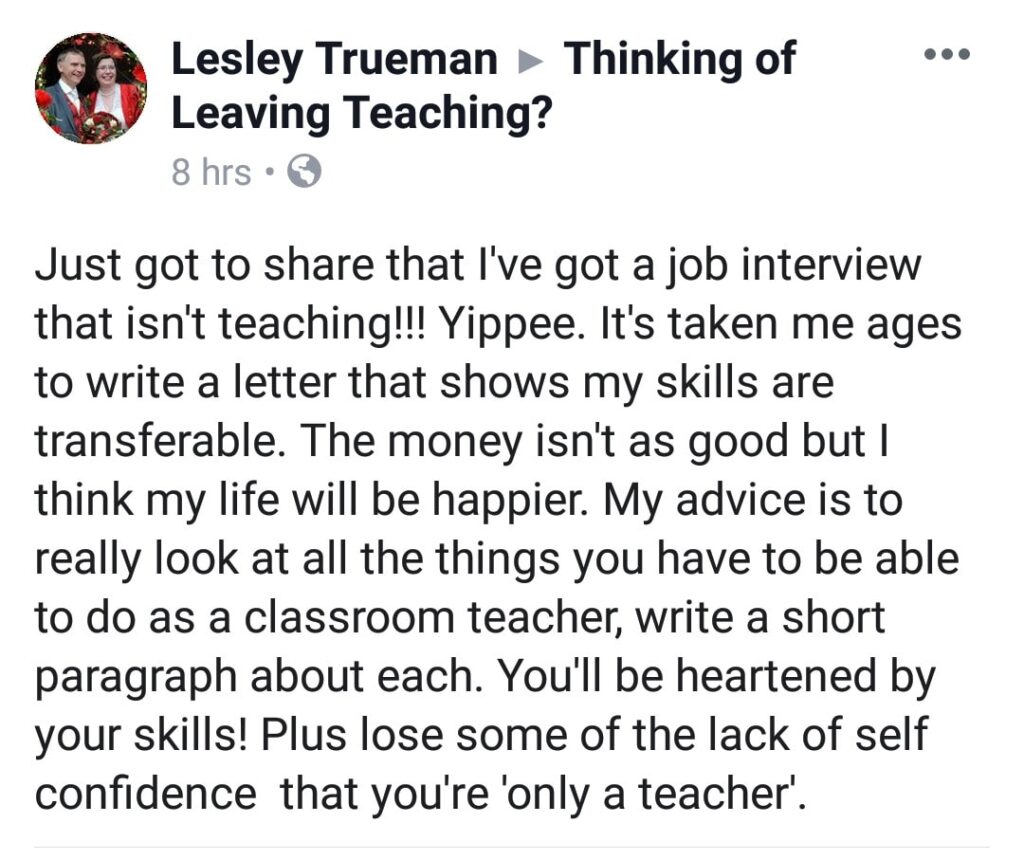 Once you have put together some transferable skills then you will be in a position to move on to Writing Your CV.
Important Transferable Skills
Here are the what I believe are the most important transferable skills asked for by businesses, based on person specifications I have looked at over the past few years in job adverts.
Strong inter-personal and communication skills
This appeared in most job adverts I looked at. Examples included essential criteria such as, "Written and oral communication – ability to convey complex information in a simple and engaging manner", and "Experience of developing and delivering engaging and interactive training to groups of varying sizes." The ability to communicate, both verbal and written, is clearly a key skill in most jobs.
How do you show this?
You have been a teacher delivering lessons to classes of children with a wide range of abilities. This has been verbal, but you have also tailored your written class materials for different skill levels, and maybe different ages too. You will have worked with large groups of people and on a one-to-one basis. Your verbal communication skills have also been important when talking to parents at progress evenings. Your written communications skills have been useful when emailing other teachers, administration and support staff.
You will have had to work, and establish rapport, with a variety of people of all ages, not just the children. You may have had to work with Teaching Assistants and Counsellors, and collaborated with teachers both in your department and other departments. You will have handled some difficult situations; try to come up with examples of where your professionalism, tact and diplomacy improved a situation. What negotiation, influencing and enabling skills did you show to motivate and engage a particular pupil who wasn't interested in learning? How did you build that relationship? What classroom management techniques have you used to resolve conflict? Have there been situations where you had to use conflict resolution skills with other members of staff?
Presentation skills
Many job adverts I looked at also mentioned "presentation skills" in the essential criteria in addition to communication skills. Most of these jobs involved an element of training but businesses also use presentations in sales and internal communication programs.
How do you show this?
Presenting information clearly and effectively is something that you do everyday as part of your lesson planning to get your message across. You may use PowerPoint as a tool to create content-rich presentations using images, audio and video. However, "Presentation "skills" doesn't just mean "using PowerPoint". What is also important in addition to the structure and design of the presentation is the tone of your voice and your body language. It is for this reason that many job interviews will require you to prepare a presentation on a given topic. Think about the different ways that you inform, educate, motivate and persuade your audiences. How do you use your presentation skills to engage your audience and retain their attention?
Problem solving skills
An example of where problem solving appeared in one job application form was, "Please give an example of how you solved a work-related problem, demonstrating your customer-focused outlook."
How do you show this?
You have written many lesson plans and worksheets. Most of these have worked well but some haven't, so what you will have done is looked at how they could be improved. You've analysed what the problem was and made it better. That's an example of problem solving. Some teachers have also demonstrated their problem solving skills during the lesson; they get a feeling that something's not working as planned and adjust their plan mid-lesson. This would also demonstrate the skill of adaptability. I remember one teacher doing this while she was being observed by an Ofsted inspector. She had given the inspector her plan, but shortly afterwards told the inspector that she wasn't going to follow it because she had identified a lack of prior understanding. The inspector graded the lesson "Outstanding". Conflict resolution skills have been mentioned in inter-personal skills, but they are also important in problem solving.
Time management and meeting deadlines
Time management and deadlines are frequently included in essential criteria in job adverts. An example of one of the essential criteria for one job I applied for was, "Has, and is able to demonstrate, the ability to work independently, accurately and to deadlines within a team environment". I also had the following question to answer in an application form, "Please give an example of a time when you had competing deadlines to achieve in a work role and how you managed your time accordingly".
How do you show this?
As a teacher, you have many tasks and deadlines to complete. You have several lessons to prepare for each day, and successfully manage the time in each one (whether that's a single lesson of 40 to 60 minutes or a double lesson). You are required to monitor and assess performance and give feedback on pupil work. You maintain records are also required to write and submit progress reports in time for reports to be issued to parents. You are constantly working under pressure to meet personal and organisational targets. Think about your time management… do you get all your planning and marking done at school or do you have to work nights and weekends to get all your work done?
Admin Skills
One problem with recruitment agencies is that many have absolutely no idea what a teacher does. Their blanket response to several people I have heard from is that teachers have no administration skills. Obviously, that is utter nonsense.
How do you show this?
As a teacher, you have most probably used several applications in Microsoft Office, including Word, Excel and PowerPoint. You will have done data analysis ad nauseam using Excel and SIMS or other management system. If you have used pivot tables then include that, although it has been reported that some recruiters don't even know what pivot tables are! You could show proof of your Microsoft Office skills by joining the Office 365 Teacher Academy (duration: less than 12 hours) and learn about basic features of Office 365 including Microsoft Teams, OneNote, Sway, Microsoft Forms, Office Online and OneDrive.
Marketing and Digital Communication
This may not be important for everyone, but I thought I'd include it as some teachers may have these skills. I was an ICT teacher and, after I left teaching, I qualified as a Digital Marketing Assessor. Marketing and Digital Communication skills are important to businesses because it helps the organisation get themselves known and builds their brand. If this is an area you would like to get into then there are ways you can show your transferable skills.
How do you show this?
Nowadays, most schools will have a school website. You may already be involved in content creation for the website. If not, then see if it's possible for you to get more involved. You may be involved with the school's social media or you may have a following yourself on EduTwitter. If this is an area you'd like to get into, then start to create a portfolio; create a blog or use software such WordPress to build a website for your class.
Other transferable skills
Active Listening
Coordination
Creativity
Critical Thinking
Diagnostic Tests
Learning Strategies
Judgement and Decision Making
Leadership & Management
Coordinating others to meet objectives and goals
Transferable skills are the most important part of the hiring process. They are frequently referred to in application forms in "Key Competencies" and "Essential Criteria" and I talk about these in my section on Completing Application Forms. You will also need to focus on your transferable skills in order to answer competency-based interview questions, which I talk about in Interview Questions.
Example of Essential Criteria
The following are essential criteria for a job as a Learning Content Designer. It is a job that some teachers go on to do after leaving teaching. You should be able to see that you have many transferable skills that would satisfy those essential criteria.
Proven experience of designing and writing accessible and user-centred learning content

Proven ability to understand and organise complex information quickly and clearly

Excellent writing and editing skills, including the ability to turn complex information, like legal jargon, into plain English.

Comfortable sharing work early with users and colleagues and improving content based on feedback

Experience working with researchers and using data, user research and feedback to design and iterate content.

Experience designing learning content in different formats, and confidence in choosing the best way to present learning to users.

Experience of working with learning management and publishing systems (LMS) and in a digital development environment.

Confidence choosing the best way to present learning to users.

Essential Criteria for job as Learning Content Designer
Conversation about Skills
This was a conversation that a couple of people had on a post from my Facebook page, Thinking of Leaving Teaching:
"One thing I have found is that teachers have many skills to give to non-teaching industries. Things like good communication, ability to organise yourself and others along with report writing and such like are valuable assets. When you are teaching it is difficult to think about what else you could do and if you have the skills. You'll be surprised by the skills you actually have."

"I'm not surprised by the skills I have but I think other jobs don't think my skills are transferable."

"I found this to be true when I was looking for jobs. There is an assumption by non-educators and even teachers themselves that teachers lack conventional professional skills required to succeed outside of the classroom. This is complete and utter BS. Teachers run their own "businesses" in their classrooms every day. Sure, teachers may have to learn some new technology or the catchphrases and workings of another industry, and have to get used to interacting with adults instead of young people, but they're experts at learning and teaching new things. Many job descriptions want a candidate to have had the exact job experience in a position even if a teacher can paint a picture of her transferable skills. Again, that's BS and a lack of imagination and courage on the part of employers. I think part of what's needed is some cultural paradigm shifts around the perception of teachers and the skill and art of teaching."