There are many fields in the public sector, including Local government and council, Central government, Civil service, Education, Healthcare, International development, and Police, firefighting and armed forces. These jobs can be found on the GOV.UK site.
Civil Service applications have now moved towards the Success Profile Framework which has been introduced to attract and retain people of talent and experience from a range of sectors and all walks of life, in line with the commitment in the Civil Service Workforce Plan.
If you're looking for a job in the Civil Service then you need to become familiar with their Success Profile Framework which assesses candidates against five "elements":
Behaviours – the actions and activities that people do which result in effective performance in a job.
Strengths – the things we do regularly, do well and that motivate us.
Ability – the aptitude or potential to perform to the required standard.
Experience – the knowledge or mastery of an activity or subject gained through involvement in or exposure to it.
Technical – the demonstration of specific professional skills, knowledge or qualifications.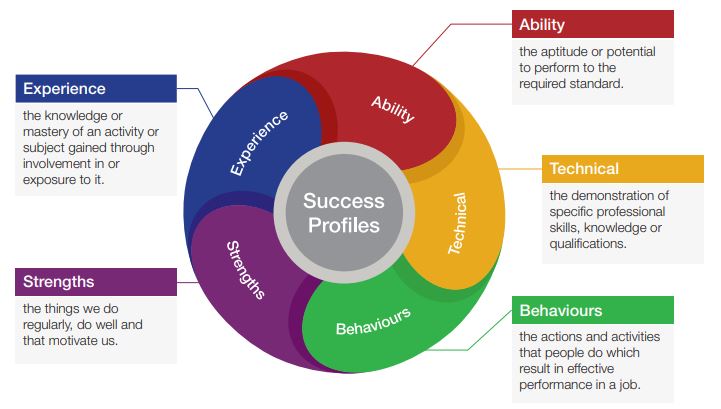 Not all elements are relevant to all roles and the job application will require you to write a personal statement (up to 1200 words) which needs to include any of the elements that they refer to in the application pack.
Advice from an ex-teacher
There have been a number of teachers who have posted in the Thinking of Leaving Teaching Facebook group about their success in applying for jobs in the Civil Service. Here's one example:
"I subscribed to daily job alerts on the Civil Service website. I set my preferences only by city and salary. I looked at all departments and all jobs that I was interested in. At an open event for HMRC I talked to lots of different Civil Service professionals. They were all very encouraging because of the diverse range of skills I have as a teacher. This gave me a real confidence boost (and at the time my confidence was at an all time low).

My advice, if applying to the Civil Service is – take a lot of time on your application. Follow the guidelines given – they are very clear. Study the Civil Service Behaviours and Strengths. Write down lots of personal examples to evidence your skills.

Use the STAR format (Situation, Task, Action, Result) – this is also very important at interview. If there are tests, take your time. Do them without any distractions and do the practice tests first. If you get to interview: take a lot of time to prepare and practise.

As teachers, we have so many transferable skills. It took me a while to find the confidence to realise the skills I have, but if I can do it, you can too."

From a post in the Thinking of Leaving Teaching Facebook Group
Useful links
Success Profiles Overview
Example Civil Service personal statements for all the Success Profile Behaviours.
How to approach Strength Based Questions and Behavioural Questions in a Civil Service Interview
Different Public Sector Professions
A useful link is this article, What are the Different Public Sector Professions Available to Those Leaving Their Teaching Jobs?, which also talks about professions in the Public Sector that are available to those leaving their teaching jobs. Topics discussed here are:
Exploring different options after your teaching career
Civil service jobs for ex-teachers
Civil service positions overseas
Teaching English abroad
Community based work
Jobs in education
Counselling: alternatives to teaching
Becoming a Tutor
Become a substitute teacher
I hadn't heard of the Civil Service Fast Stream before reading this. This is a government-run scheme that takes on graduates with an aim of making them into leaders to ensure a successful future for the Civil Service, and is also available for those leaving teaching jobs.
If you're thinking of leaving teaching then the Thinking of Leaving Teaching Group might be a good place to get some ideas. It is a safe place for people to ask for help and advice, discuss topics and share opinions about jobs you can do if you leave teaching.