Competency-based questions
Competency-based interviewing is based on the assumption that past behaviour is the best predictor for future behaviour. They normally begin with "Describe a situation where you had to…" or "Give an example of when you…" and are looking for examples of specific skills such as teamwork, leadership, persuasiveness, project management and how you react when things don't go to plan. The questions, either on a job application form or in interview, require you to give specific real-life examples of when you demonstrated the particular skills or attitudes. Usually you are asked to describe a specific problem or situation, what actions you took to solve the problem, and what the result was.
Here are two examples of competency-based questions:
Describe a time when you were responsible for coordinating a small project from initiation to completion, how did you plan, execute and evaluate the project?
Please explain by using an example of a time when you unexpectedly had to change your approach or schedule when something didn't go according to plan. Describe the situation, what you did and the outcome.
The STAR Technique
One way of answering these questions is by using the STAR technique – Situation, Task, Action and Result. The Situation and Task are sometimes combined and form the introduction. The Action you took should form the main body of your answer, and the Result should be your conclusion.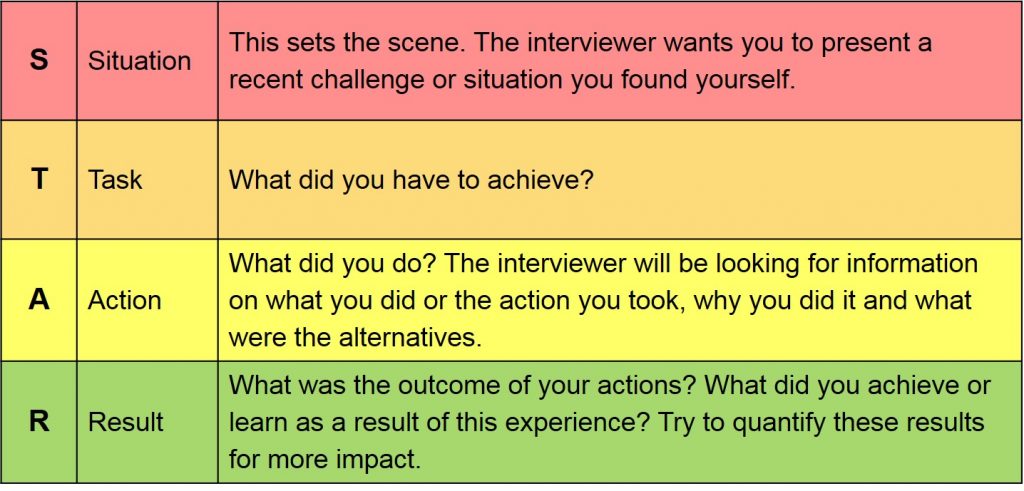 Here is an example of how the STAR technique can be used:
Try to be specific with your result: "We won the cup"; "Membership of the society increased by 20%"; "We raised £400 for charity". If you failed to achieve your objective say what you learned and what you would do differently next time.
Here are some competency-based questions that I had to answer in one application form:
Please outline your experience of supporting business start-ups. (Essential to the job)
Please give an example of a recent event that you organised from start to finish. (Essential to the job)
Please give an example of when you have built and sustained a working relationship with a senior person from the business community. (Essential to the job)
Please give an example of a time when you had competing deadlines to achieve in a work role and how you managed your time accordingly. (Essential to the job)
Please give an example of how you solved a work-related problem, demonstrating your customer-focussed outlook. (Essential to the job)
Please give an example of a successful team-based project that you were instrumental in delivering. (Essential to the job)
Please give examples of when you have used the Microsoft office packages Word, Excel and PowerPoint with speed, accuracy and creativity. (Essential to the job)
Please give an example of a successful advertising or marketing campaign that you have run. (Desirable for the job)
Please outline your knowledge or experience of regional entrepreneurial networks. (Desirable for the job)
Please give an example of your involvement in project management preferably of a student/graduate employability project. (Desirable for the job)