Some teachers decide to leave teaching and set up their own business. If you are passionate about something then would you do this too? What is your passion?
"Choose a job you love, and you will never have to work a day in your life."

Confucius
What is Your Passion?
Our passion is not what others want us to do, nor is it something that simply 'sounds good'. It is what drives you to do something and motivates you to jump out of bed in the morning!
To find what your passion is, you could think about the following:
Think about your current teaching job and ask yourself, "Is this truly my passion?"
What do you love doing outside of school?
When do you feel happiest?
Are there any activities you like doing or subjects you love reading up on and talking about?
What are your values?
What Would Be Your Dream Job?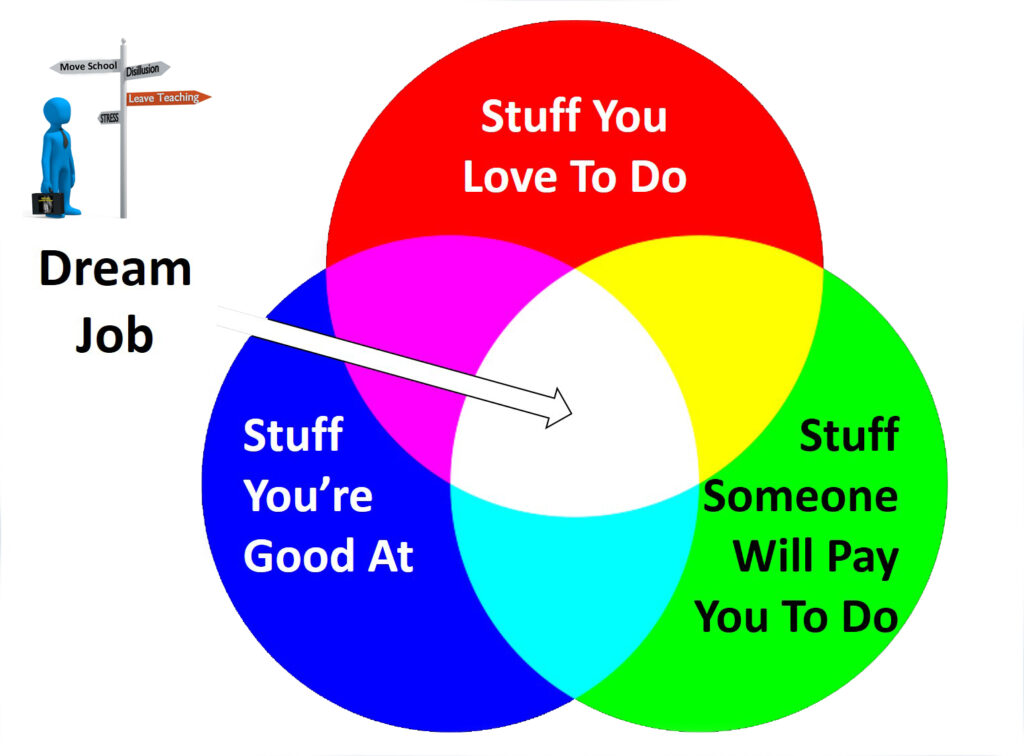 If teaching is not for you anymore then what would be your dream job? In the diagram above, this would be a job that involves doing stuff you're really good at, stuff that you enjoy doing, and stuff that others will pay you to do. You could do a self-assessment to identify your strengths and list what you're good at.
Answering this question might make you decide to take a totally different career path, that of self-employment.
You could list those things in a table, such as the this:
Once completed, does that give you any ideas about what you could do?
Karen's Story
Here is Karen's story of leaving teaching to set up her own business:
"I was a secondary teacher working with teenagers with social, emotional and behavioural needs. Whilst trying to teach main subjects, like maths and English, I realised that the pupils' health and wellbeing was the upmost priority. How do we expect young people to learn when their emotional wellbeing is not being addressed first? I decided to leave teaching and set up my own business called Mind Marvels.

I now deliver emotional wellbeing sessions in both primary and secondary schools and nurseries, working with young people to give them 'skills for life'. The sessions focus on emotions and calming strategies to self regulate their feelings. I always loved working with young people but find my work even more enjoyable now I am teaching skills for life. You can find out more information at www.facebook.com/mindmarvels"

Karen's story of setting up her own business