If you are considering leaving teaching and starting your own business then a very useful tool is a SWOT analysis. This is an assessment model used to measure what you, or an organisation, can and cannot do by identifying strengths, opportunities, weaknesses and threats.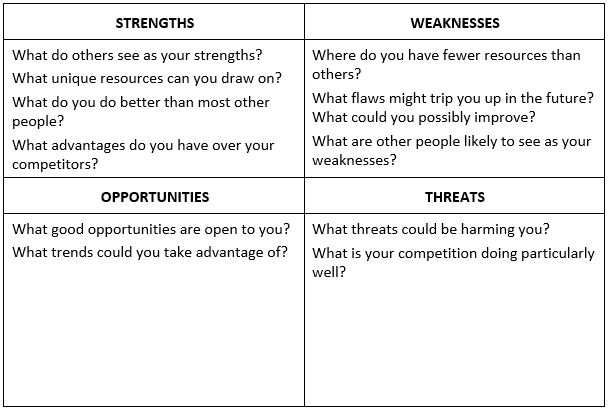 Once you have done a SWOT analysis, you will be in a better position to complete the following essential plans:
a business plan – you'll need to create vision of who your ideal client is and the goal of your business.
a marketing plan – most people start by creating a Facebook business page. If your business will involve selling goods that look good on photographs, then an Instagram account would be useful. With Instagram, you'll need to use hashtags to target ideal clients. It would also be advisable to think about a website.
People who can help you
There are various people and organisations who can help you when you set up your own business. Here are some examples of the kind of people who may be useful to you:
Printers – to create your stationery, such as business cards and flyers for events
Proof readers – to check the spelling, punctuation and grammar of your communications
Web designers – for when you decide to create a website for your business
Photographers – to take professional-looking photographs for your branding
Videographers – to create professional promotional videos for your business
Social media management companies – to save you time with your social media
Networking organisations – these provide the ideal places to meet other businesses
Accountants – to help with your accounts and avoid getting HMRC fines!
I hope to build a list of these in People Who Can Help You – Set Up Your Business.
Further information:
Startups – Everything you need to know about setting up your own business. What to start (business ideas), how to do it (naming the company, branding, marketing, etc.) and other help topics.