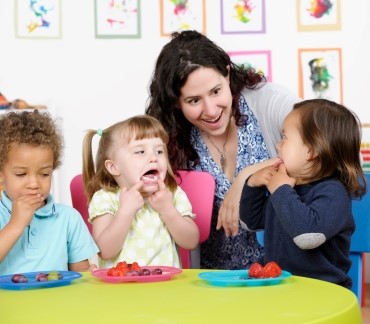 Do you enjoy being with young children?
Would you be interested in setting up a play-based early education service in your own home?
Home Early Educators
Leicestershire, Nottinghamshire, Derbyshire, Birmingham* & South Yorkshire,
Does this sound like you?
Loves being with children; you get a buzz from helping them learn and develop
Happy to provide care in your own home and can create a nurturing, safe place for children to thrive
Would love to do something for yourself; you like the idea of having an early learning business at home, but would rather have the full support of an expert company who can provide everything-under-one-roof service to help you grow and develop, and where you can meet other like-minded people
Understand early years is the most important stage in a child's life where high quality childcare can enrich children lives and have a positive impact that lasts a lifetime
Description:
We are looking for individuals passionate about the fulfilment of young children to join our Ofsted registered community of early educators. If you are genuinely interested in providing an early learning service where you can provide a safe and nurturing place for children in your home, we are definitely interested in talking to you.
If you are looking to leave teaching for a fulfilling career where you can combine your enjoyment of working with children, whilst being in control of your own destiny, then starting an early education business at home could be for you!
How it works:
We provide full step-by-step support and pre-registration training to set up a business in 2 – 3 months. We also help you with marketing to find parents looking for childcare. Once registered, your income could be typically £25k – £35k per annum, depending on your business capacity, and you will continue to receive on-going support and training as a member of our professional community.
The training and registration process are all free because we deliver it through our funded training provision. However, you need to be 100% committed to giving children the best start in life with an early education and care service in your own home. Once registered, our full support service continues to be free as your earnings is not affected by our fees to parents.
The training and registration process includes:
2 – 3 months registration process including undertaking various background checks to verify suitability to work with children
A pre-registration training with a business planning programme
A health & safety visit to your house
Early years and/or primary school teaching experience is a bonus but not essential. Many secondary school teachers retrain as early educators too. What is needed is a positive attitude, a willingness to learn new skills and knowledge and, most of all, a genuine interest in working with young children!
Please note we take our commitment to safeguard and promote the welfare of children seriously. We are only interested in motivated people who are suitable to work with children.
About @Home Childcare:
@Home Childcare are specialists in home-based childcare. We are an Ofsted registered community of professional childminder educators. Home early educators are childminders. We call them educators in recognition of their specialist role providing care and early education to children in a home setting.
We have a similar remit as Ofsted in terms of registering, regulating and inspecting educators. We also provide support and training to educators. Our registered home-based providers offer high quality care and early learning in their own home.
"Childminders choose to register with @Home Childcare because of the quality of the package that is in place to support their business development and their work as a childcare provider."

From our Ofsted inspection report
Please watch this video to hear from an ex-teacher who successfully set up her early education business:
Application Process:
For more information, visit our website here. To express an interest, please complete our online form here.
*Please note, we currently do not have funding for Birmingham areas.